Kodak SP360 4K TRIO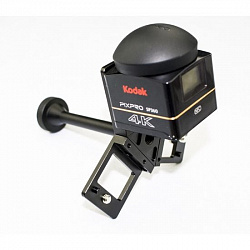 Detailed description
Kodak SP360 4K DUO virtual reality camera suits for shooting 360 videos, 360 time-lapses, 360 photos. Output video formats up to 5K@30p or up to 3K@60p. Consists of two Kodak SP360 4K cameras.
Included:
Kodak SP360 4K DUO system assembly, including remote control

6 high-speed microSD cards 32Gb each

6 standard Kodak batteries

2 Battery chargers

Card reader Macbook Pro 15" for offloading footage

Manfrotto stand

Camera assistant AC (up to 12 hours shooting day, 1 hour lunch break)

Offloading footage to external hard drive

Free delivery to Moscow (inside MKAD roadway)

Pricelist:
0.5 day - 20.000₽
1 day - 30.000₽
3 days - 20.000₽/day
Schengen (till 2020 year)
USA (till 2020 year)
Add-ons:
DP/Director - from 15.000₽/day
Post-production - from 15.000₽/min
IMPORTANT: Extra grip stuff, suction cups and other accessories can be ordered separately for additional cost
AC is not responsible for any DP's or Director's duties
All equipment is allowed to be used only under safe conditions (no risk for damage, low humidity, no dust, etc.)
AC's extra working hours must be paid 1000₽/hr
None Rentaphoto discounts apply
Long term projects and shooting out of Moscow should be discussed separately.