360 Gyro CarCam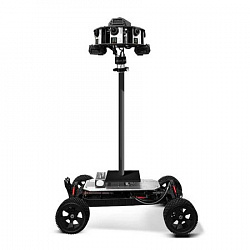 Detailed description
​
Moving platform with a gyro-stabilized suspension is perfect for filming 360 video on the move indoors or in an open area on prepared paths. The barn rental kit includes 11 cameras Gopro Hero 4 Black Edition.
The rental price includes:
Rig 360 video cameras with a stabilizer position
The moving platform
11 pcs. GoPro Hero 4 black edition
11 pcs. micro SD memory card to speed 32Gb
An apparatus for recording material on the customer computer
A device for charging batteries
Shipping to and from the shooting location (within 20 km from Moscow)
Job mechanic camera (changed to 8 hours)
Additional features:
Organization Playback 360 videos on the site
Professional video postproduction 360: gluing video without seams and doubly objects tsvetkorrektsiya, graphics and 3D implementation in 360 video, 360 audio
Uses for shooting: elektrokolesa, helmet, different fasteners, avtogripa, helicopter, cable car, etc.
Providing a virtual reality helmet: Samsung Gear VR, Google Cardboard, etc.
Taking further 20 km from Moscow and outside Russia.
IMPORTANT:
Lenses and other accessories for the camera (radiofokus) must be ordered separately
For rent system does not act any discount Rentaphoto
If you plan to use your own camera, the system price will not change
Products related to this item